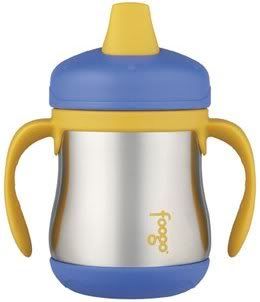 The Nature Moms Blog put together a helpful child tested comparison of BPA free sippy cups. They took several different safe sippy cups and put them to use in a real-world setting. Take a look at their take on the Thermos Foogo Sippy Cup:
Thermos Foogo Sippy Cup (Price $14.99-17.99) – This cup is also stainless steel like the KK [Klean Kanteen] and it has a soft plastic spout. You can also get it with or without side handles. There is even a taller cup with a straw available. The colors are quite attractive with blue/yellow and pink/purple combos. I have one friend that claimed to have a few small leak issues but so far we have not. One BIG advantage that this cup has over the KK bottle is that it is also a thermos. Warm drinks stay warm and cold drinks stay cold. It is good, sturdy cup. I love that it is made of stainless steel, I love that it is also a thermos, and I REALLY love the ultra stylish design. It is one gorgeous sippy cup (did I really just say that). My kids gave this cup an A and I gave it an A+.
We recently added the Foogo line of safer products.