It's shocking to think that more than 6 billion pounds of bisphenol-a are produced in the U.S. each year by Dow Chemical, Bayer AG and other chemical makers.  But today we glimpsed the beginning of the end for that big business when the Washington Post announced the six largest manufacturers of baby bottles will stop selling bottles in the U.S. made with BPA.
We've been talking about the woes of this estrogen-disrupting toxin for years, and it thrills us to see evidence that the voices of parents across America are finally being heard!  Even in the midst of our government's lackadaisical stance,  parents have persevered in making a statement by speaking out – and even more poignant – by refusing to buy toxic products.
Along the same vein, one of the manufacturers included in the decision was Philips-Avent, who stopped selling polycarbonate products in the U.S. at the end of last year.  It's interesting to note that they will continue to sell the BPA-based products overseas, even in the U.K. where they're based.  We are in the unique position of being one of very few retailers who ships BPA-free Avent products internationally, and this information corresponds perfectly with a very noticeable up-trend we're seeing in our European sales.
When we took a closer at our data, we found that the number of European shoppers from major countries (especially the U.K. and France) increased by 112% from October 2008  to February 2009.
In talking with our international customers, we've realized that they are having a terrible time locating and purchasing BPA-free baby products in their own countries.  Popular French blogs like this one send streams of concerned parents to our store  in search of safer feeding gear.  We've seen our top ten countries change drastically in the recent months.  Our demographic now looks like this: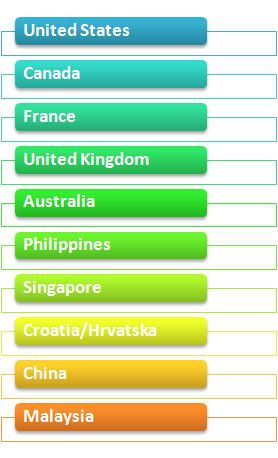 We're honored to have the opportunity to work with new friends across the world, but it makes us even more grateful to experience the positive changes we're seeing right here at home
The following two tabs change content below.
Alicia Voorhies is a Nurse who decided to take a break to relax and enjoy her young kids after 13 years of working with disabled adults. She began to explore the world of alternative health ideas and was immediately attracted to the mysteries of endocrine disruptors and their effect on children. In 2007 she founded
The Soft Landing
along with her mom and sisters to help parents provide a safe, natural home for their children without drowning in an overwhelming sea of information.